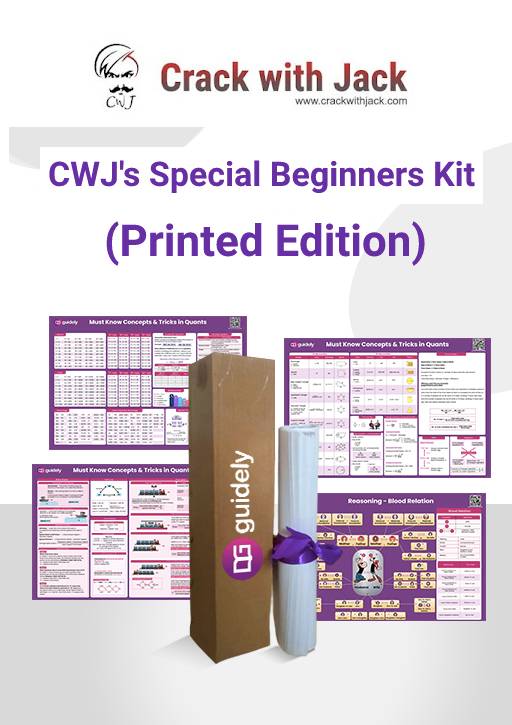 All Basic Concepts & Logics
Tricks for Confusion Statements & Rules
Quants, Reasoning & English
9 Printed Sheets & Video Explanation
Dear Friends, We have launched this Crack with Jack Beginners' Kit to provide all basic concepts & logics as printed sheets with pictorial representation. It will help you to understand all the concepts & rules easily and will help you remember them better. If you stick these sheets in your study room or bedroom wall, you can revise them from time to time and you won't forget those concepts and rules ever. It is a new initiative by Guidely specially made to guide students in their effective banking preparation.
All beginner candidates can utilize this kit and increase their speed and accuracy in solving the questions in the examination. Aspirants can grab this unique & exclusive Guidely's Beginners Kit at just Rs.299. For those candidates who have purchased other packages of C (other than Royale Pass Users), this kit is available at Rs.249.
Features of this Crack with Jack Beginners' Kit:
It consists of 9 sheets in total covering all the sections such as,
3 (Quants)
4 (Reasoning)
2 (English)
1 (Self Analyzer)

Quants Sheet consists of:
Tricks for Square, Cube, Percentage, Quadratic, BODMAS Rule, Number Series, Missing Number, Algebraic Formulas, Mensuration, Partnership, Permutation & Combination, SI & CI, Time & Work, Partnership, Ages, Boats & Streams, Profit & Loss, Time-Speed-Distance.
Reasoning Sheet consists of:
Basic concepts for Syllogism, Blood Relations, Puzzles & Seating All Confusing Statements. And how to easily remember the Alpha Number Series.
*Note: Kit will be delivered within 4-6 Working days